Building a list is one thing, however writing emails that makes money requires some serious marketing skill. Unfortunately not everyone is gifted with that ability which is why it's always a good idea to learn from the pros.
Writing emails that sell is not an easy task, but thankfully marketing friend Aaron Danker is giving away all his emails that are directly responsible for generating well over $239,146.83 in sales!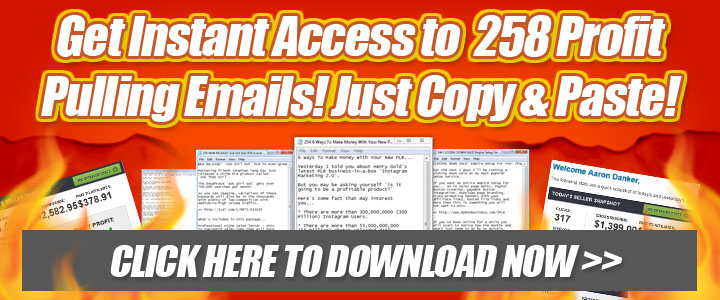 Inside you'll discover…
* How an underground marketer wrote his way to $239,146.83 in sales with carefully crafted emails.
* Know what style and tone to use to create profitable emails that readers love.
* Discover what subject lines to use to spark interest and to generate insanely high click-through rates even if you've got a small list.
* Find out what products sell well that are responsible for 6-figure sales.
* Discover the techniques for promoting affiliate products.
* Maximize your profits with the 'step-ladder' product pricing and use time-tested scarcity tactics that work time and time again.
* See how many emails you should send out per product (you'd be surprised).
* Know how much content to add in each email to get the best results.
* Emulate and model a writing style to boost your sales.
* Structure your emails that makes it visually pleasing for the reader.
* Know what freebies to hand out to your list and how to use it to make even more sales.
* Gather all the knowledge and confidence you need to excel in email marketing.
…plus much more!
Aaron his been in the business full time since 2008 so you're getting years of marketing experience all for free. Save yourself 100s of self-learning hours and embarrassing newbie mistakes. Learn directly from a pro and ensure every email you send out comes back as profit! You don't need a full blown course on email marketing, you don't need to sit through hours of seminars, nor do you need a guru to tell you what to do. Why not just LOOK and SEE exactly what's been done, what already works and model off it…
How much are these swipe emails worth to you? How much time will you save? How much will you save on courses? I cannot guarantee that the download page will be there forever so grab the emails whilst they are still available.
Get instant access to them from the special link below…